Dates
September 28 – October 1, 2022
Venue
​​CCIB Barcelona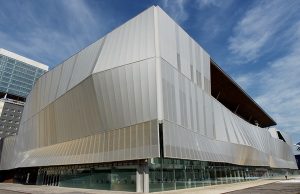 Address: Plaça de Willy Brandt, 11-14, 08019 Barcelona
Telephone: +34 932 30 10 00
Website: https://ccib.es/
Hybrid Congress
All sessions will be live-streamed from Barcelona via a special virtual platform. The sessions will be available to watch for the next 3 months after the end of the Congress for all registered participants.
Airport and Travel Information
Barcelona-El Prat is the second largest airport in Spain, and is the main airport in Catalonia and on the Mediterranean coast. In 2019, it was the 6th busiest airport in Europe.
The Barcelona City Guide website provides detailed information regarding the different ways yo can reach the city center using public transport. You can read this information
here
.
​Visas
Check with your local Spain Embassy to verify any visa requirements.
Upon request, the SIOP 2022 Congress Secretariat will send personal invitation letters to participants.
This invitation is prepared solely for the purpose of visa applications and is not a commitment on the part of the organizers to provide any financial support or confirmation of inclusion in the Scientific Programme. Please email your request with full name, postal address and passport number to: reg_siop22@kenes.com
Liability and Insurance
The Congress Secretariat and Organizer's cannot accept liability for personal accidents or loss of or damage to private property of participants. Participants are advised to take out their own personal travel and health insurance for their trip.
Weather
Barcelona weather in September is very warm and sunny with minimal rainfall. However, you're likely to have plenty of warm sunshine throughout the month with rain being more common towards October. Averages temperatures range from 17°C/62°F to 26°C/78°F with at least 9 to 11 hours of warm sunshine per day.
Currency
The Euro (sign: €; code: EUR) is the currency of Spain. The Euro has the symbol "€" and is subdivided into 100 cents, symbol "c". International credit cards, such as American Express, Diners Club, MasterCard, and Visa credit cards, are all widely accepted in Spain. Exchange offices and ATM machines are available throughout Spain.
The official currency of the congress is the Euro (€).
For exchange rates: www.xe.com
​Time
Spain mainly uses Central European Time (GMT+01:00) and Central European Summer Time (GMT+02:00) in Peninsular Spain, the Balearic Islands, Ceuta, Melilla and plazas de soberanía. In the Canary Islands, the time zone is Western European Time (GMT±00:00) and Western European Summer Time (GMT+01:00).
Safety and Security
Follow the same rules of safety that you follow while travelling anywhere else with respect to using hotel safe deposit boxes and keeping travel documents safe.
When in public places, keep them in your hotel or with you all the time when moving about.
Always carry the hotel address with you when you leave the hotel.
Do not leave bags/mobile phones unattended.
​Language
The official language of the SIOP 2022 Congress is English.
The local languages spoken in Barcelona are Spanish/Castilian and the Catalan language. Spain, much like many other European countries, speaks English as a second language and has over 11 million English-speaking residents. However, there are times when English speakers need to be careful and can't just add '-ado' at the end of a word and expect it to become Spanish!
Clothing
During the entire meeting, attire will be informal.
Useful Telephone Numbers
Fire Department: 112/080
Ambulance Service: 112/061
Police Department:  112/091
English-speaking police officers: +34 932 903 000
CME Credits
SIOP 2022 has been accredited with 23 European CME credits. For more info click here
Covid-19 and Traveling to Spain
We are closely monitoring the rapidly changing COVID-19 situation and are committed to creating a safe and effective meeting experience for all our participants.
The health and safety of Forum delegates are our highest priorities. We will be updating information and safety guidelines as conditions evolve.
As travel requirements and restrictions do change on a frequent basis, we recommend checking your airline's website for requirements to enter Spain (and a connection country, if any), as well as consulting the following sources of information in the months and weeks leading up to your travel:
Prescriber / Non-
Prescriber
Within the congress venue healthcare professional authorised to prescribe prescription medicines will be recognized with a letter P (Prescriber) indicated after their names. The non-prescribers will be listed as N/P
All exhibitors will be recognized with a letter E (Exhibitor) indicated after their names. 
Terms of Use
Registered participants will receive personalised credentials to access the Online Congress Platform. These credentials are personal and non-transferable.  By signing in to the platform, you agree to the Terms of Use.
SIOP 2022 Congress Secretariat

1-3 Rue de Chantepoulet
PO Box 1726
CH-1211 Geneva 1, Switzerland
Tel: + 41 22 908 0488
Fax: + 41 22 732 2850
Email: siop@kenes.com